I live in Muskoka, which means I live in the middle of black bear country.  Most of us see at least one black bear while driving each year. I've personally seen half a dozen this spring and early summer.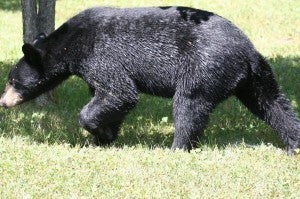 Living close to nature is wonderful, but proximity to black bears often brings concern to local and seasonal residents. Although black bear's are usually afraid of people, they can be dangerous in certain situations, and are very capable of injuring or killing a human. (black bear attacks on humans are very rare)
A few tips to keep our bear neighbors at a healthy distance:
Deal with food properly.
Bears are motivated by their stomachs. Period. A bear that eats, will return to the location they fed.
Your garbage and compost likely has something that b

ear's consider good eating. Get a bear-proof bin, use it, and attach it to a concrete slab or tree away from your home or cottage.

Do not close up/winterize the cottage and leave much food in the building. Mice are bad enough, but a black bear can scratch and chew through siding and wooden doors to find a snack.

Clean off BBQ's well

Avoid low hanging bird-feeders. If you insist on having feeders, place them 6ft or higher off the ground.

DO NOT FEED THE BEARS --this seems common sense, but many areas of cottage country have somebody baiting or feeding wildlife intentionally. Call your municipality if this is happening. Bears that get used to people will likely end up dead at the hands of other people if allowed to continue.
*If a bear is trying to get into your home or cottage or anybody is in danger call 911*
For more info from the Ministry of Natural Resources Bear Wise Program click 
here